NCCA officers




Charles Roberson - President




John Timmel - First Vice President




Grant Oen - Scholastic Vice President




Wayne H. Spon - Secretary/Treasurer




The North Carolina Gambit – December 2021
Contributors




Roz Katz
Dr. Walter High
Conrad Conero




Mark Indermaur



Web support and distribution
John Timmel


As a member of ncCHESS, you can expect to receive a link to this publication on the first day of each month, only not this month. Contents presented in this issue include: North Carolina chess news, games, cartoons, and whatever. We welcome contributions from any members.
In this, our  issue of the resumed  North Carolina Gambit, you will find:
Roz Katz' blurb on the Chess Renaissance in NC and her monthly cartoon
Walter High – on the incredible Masters' Tournament
Conrad Conero's – words of wisdom and gorgeous pictures

Mark Indermaur – reports on North Carolina's three new National Champions from the 2021 National K-12 Grades Championship
Should you wish to opt-out of these monthly, please let us know.
From Roz Katz

Zaria© above appeared in Chess4Kids, 10/2011.
There is a Renaissance occurring in our chess community due to: the awesome Netflix® production of "Queen's Gambit" combined with the push to return to "normal," after the Pandemic; and the explosion of chess play online. We have strong centers in Charlotte, Morrisville/Durham, and Hendersonville, both encouraging our youth, our seniors, and our field of powerhouse players.
Although we have lost some of our clubs – mostly those meeting in Public Libraries – new clubs are emerging. We urge you to look at the newly updated ncChess Directory to make sure that your club is included, and to make sure that any information is updated and correct.
As a part of our effort to expand the chess community, I have volunteered to host a chess table – offering free lessons and play – during the "first night" celebration in Raleigh. Please let us know what your club is doing to encourage play of the Royal Game.
From Walter High
NC Goes Big with Thanksgiving Holiday Tournament – Walter High (wmhigh@nc.rr.com)
It has been a long 20+ months since the pandemic shut down all the OTB chess tournaments in the state (and country) in March 2020. Those of us who organize the big multi-day tournaments have been in touch throughout this period, trying to figure out when we could do major OTB again and with what precautions.
In 2021 the Charlotte Spring Classic (March), the Carolinas Classic (June), and the State Closed Championship (October) were our first attempts to meet face-to-face on a large scale with masks and social distancing. They went smoothly, people abided by the restrictions and, as far as we know, no one came away sick. Each of these tournaments attracted a larger than expected crowd as the hunger for OTB play became evident. With that experience in mind, we decided to go big with the U.S. Masters Championship/North Carolina Open which draws more players than any NC tournament except the State Scholastics Championship. The tournament had traditionally been held in Greensboro in August, but the pandemic destroyed our relationship with the long-time venue and no easy alternatives were available. To preserve this major tournament (along with the Ron Simpson Memorial), The Carolinas Chess Initiative merged with the Charlotte Chess Center & Scholastic Academy which had the venue and resources to host such large events. The move to the November Thanksgiving dates was a leap of faith as we were unsure about how a holiday weekend would fare for a major event. The traditional August dates were unavailable and it was Thanksgiving week or not at all for 2021.
I am pleased to report that the Masters/NCO was our biggest success ever! The turnout was enormous. The U.S. Masters attracted 151 players, almost double the 80+ of previous years. It is an international event and players came from half of the U.S. States as well as 25 foreign countries. Fifteen players alone came from California just to play here! The North Carolina Open drew 251 players, the second most in the last 20 years, and the Saturday Scholastic brought 64 kids to the board. That is a total of 466 participants!! Approximately 50 participants were either unrated or provisional, showing that we can expect a surge of new players due to the popularity of the Queens Gambit series.
What have we learned from this experience? First and foremost, it confirms that we can safely hold large, in-person chess events when everyone is respectful of others by wearing masks and trying to maintain some social distancing. Second, we know that we are still missing a significant number of local players who continue to avoid social gatherings due to health concerns. It will take time for some people who may be at higher risk to become comfortable attending a large chess tournament. Third, our turnout expectations for the 2022 tournaments are skyrocketing as the more cautious players return to the OTB scene joined by all the new players.
We urge North Carolina players to support all our local tournaments as soon as you feel comfortable enough to do so. We need to see our one-day events come back again in venues all over the State. We have a chance now to initiate a new "chess boom" if we can welcome our new players with great events. Thank you to all who have participated in recent months and we look forward to seeing the rest of you as soon as you feel you can participate.
From Conrad Conero
The following contribution was sent by Conrad Conero, head of the North Durham Library Chess Club and author of a monthly chess publication, with hundreds of subscribers. A noted collector and photographer in the Chess World.
Chess seems to be a game that appeals to the famous in sports and film.  Some names that come to mind are Mike Tyson and Lennox Lewis from boxing, Ron Guidry from baseball, and Arnold Schwarzenegger and Humphrey Bogart from film.  Bogart was actually a very strong player who would be considered about Expert strength and who sporadically made a living by hustling chess in NYC during the Great Depression.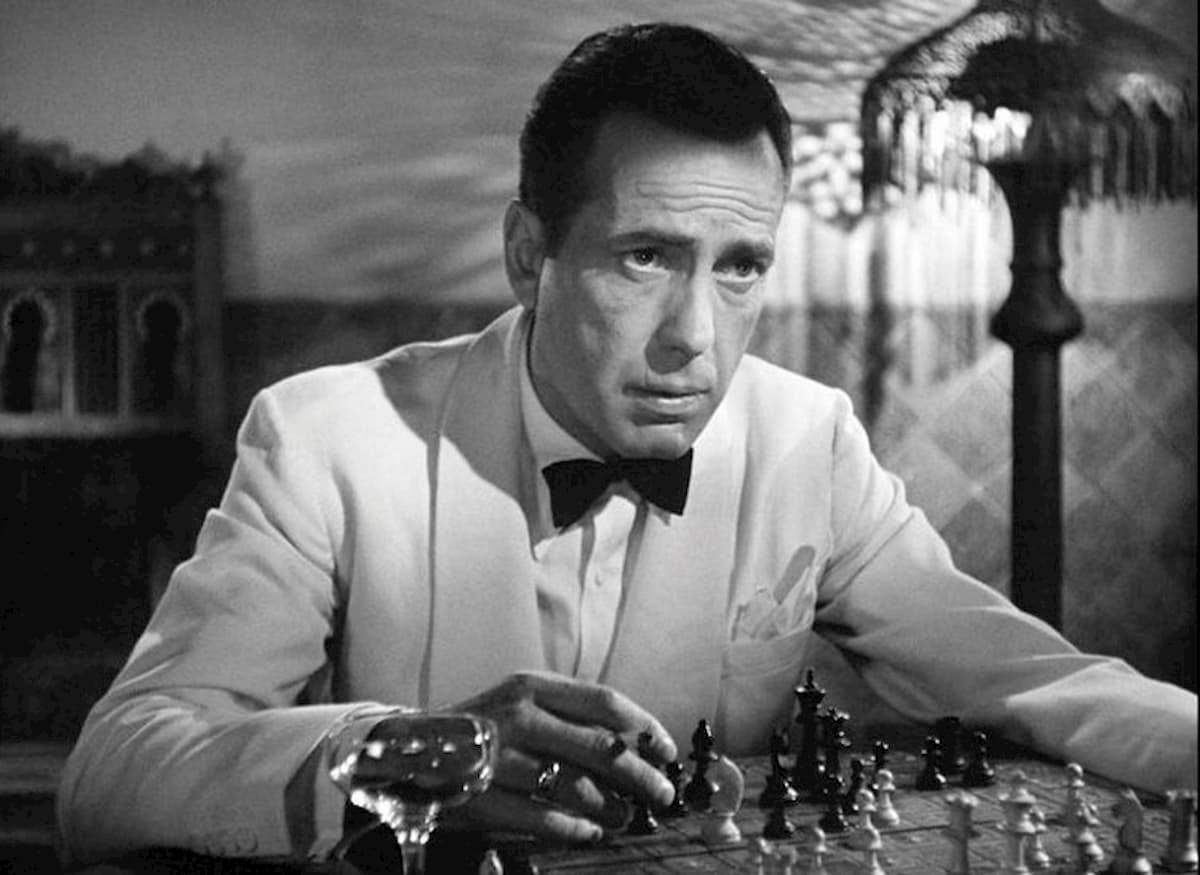 Bogart's homage to chess in Casablanca
You can see the hustler mentality at play in the following game of his from 1933, with a wild, offbeat opening move like 2. g4, meant to confuse the issue and allow for spontaneity and creativity.
 Gibbins-Wiedehagen Gambit,1933, Humphrey Bogart vs NN 1. d4 Nf6 2. g4 Nxg4 3. f3 Nf6 4. e4 d6 5. Be3 g6 6. Nc3 Bg7 7. Qd2 Nc6 8.O-O-O O-O 9. Bd3 e5 10. d5 Nb4 11. Bc4 a5 12. a3 Na6 13. h4 Nh5 14. Nge2 f5 15. Bg5 Bf6 16. f4 exf4 17. Nxf4 Nxf4 18. Qxf4 fxe4 19. Bh6 Re8 20. Nxe4 Bg7 21. Bxg7 Kxg7 22. h5 Bf5 23. hxg6 Bxg6 24. Qh6+ Kg8 25. Rdg1 Qe7 (see diagram)      
NN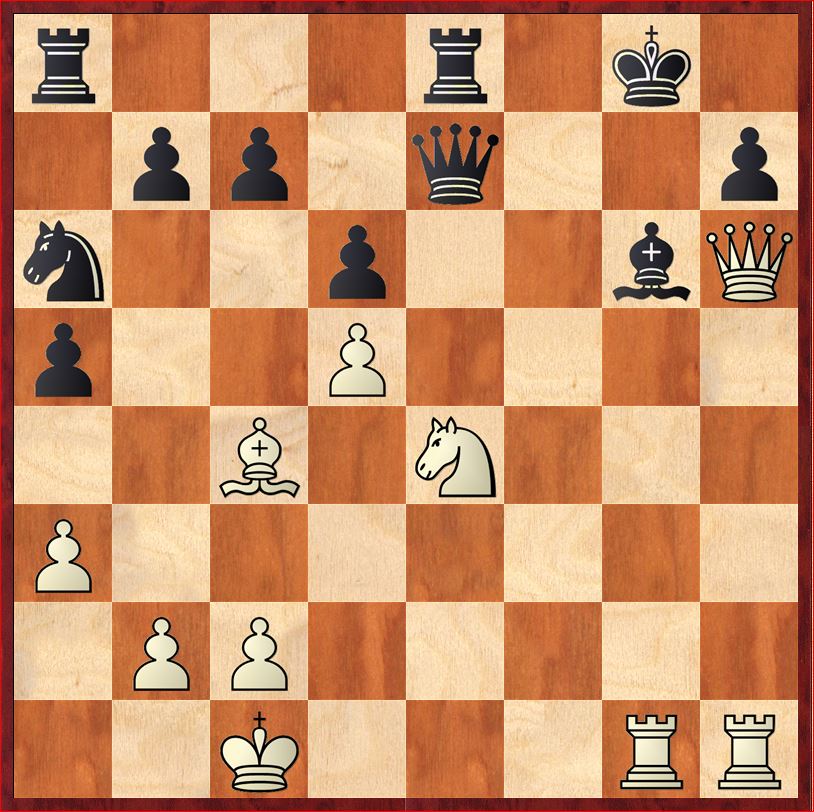 Bogart 
Rxg6+ hxg6 27. Qh8+ Kf7 28. Rh7#
This problem is a position from a game I played at the Durham Chess Club in late 2018.  My opponent, White, has just played 1. Qe4+ forking my K and Q.  After a Q trade, he will easily be able to promote his "b" pawn for the win.  Is a loss a foregone conclusion for Black? The solution will be found in our next publication – due on January 1, 2022.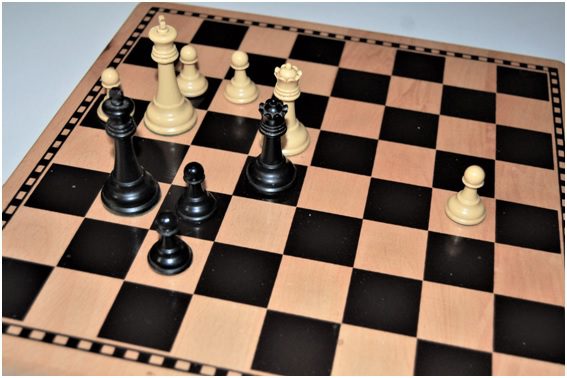 From Mark Indermaur
Photos from Grade Nationals for the NCCA newsletter. NC has three new National Champions!
Congratulations to NC's new Kindergarten, 1st Grade, and 12th Grade National Champions!
Sriansh Katta, Yang Yu, and Pradhyumna Kothapalli!